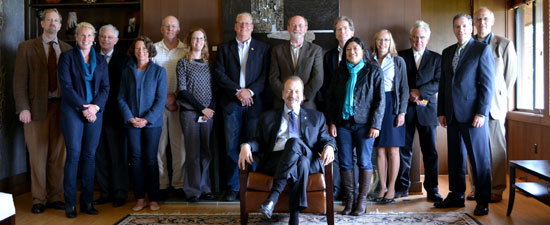 The Leadership Committee is comprised of distinguished alumni who exemplify the qualities of a UCSC education and who will be instrumental in shaping the culminating events of the 50th celebrations.
Hilary Bryant, Porter College, 1994
Hilary Bryant was a member of the Santa Cruz City Council from 2010-2014, and served as Mayor in 2013. A UCSC graduate, she earned her BA in Biology (Porter College) in 1994. Hilary and her husband, David Shuman (UCSC, 1989), own Westside Animal Hospital, and have two young children. She currently sits on several local boards, including the Coastal Watershed Council, Digital NEST and the Santa Cruz Chamber of Commerce. She enjoys competing in triathlons, biking and surfing. In 2013, Hilary co-chaired the UCSC Scholarship Benefit Dinner Volunteer Committee.
Fernanda Coppel, Merrill College, 2007
Fernanda Coppel is a New York playwright. Her plays, including the most recent, Chimichangas and Zoloft, have been developed at Atlantic Theater Company, New York Theatre Workshop, Pregones Theater, INTAR Theatre, The Juilliard School, The Lark Development Center, the Flea, the Old Vic (London), and Naked Angels. Fernanda is a member of the MCC Playwrights' Coalition and was a member of the Old Vic's US/UK TS Eliot Exchange Program in 2010. Her work has won the Asuncion Queer Latino Festival at Pregones Theater, the 2012 HOLA Award for Outstanding Achievement in Playwriting, and the 2012 Helen Merrill Award. She was a three-year Lila Acheson Wallace Playwriting Fellow at The Juilliard School and a member of INTAR Theatre's Maria Irene Fornes Playwrights Lab. Fernanda received her MFA from New York University.
James Edmund Datri, Stevenson College, 1989
James Edmund Datri is President and CEO of the American Advertising Federation, representing nearly 100 corporate members comprised of the nation's leading advertisers, advertising agencies, and media companies, and putting on major industry events such as the Advertising Hall of Fame Induction Ceremonies and the American Advertising Awards. Also well known for his leadership in government, politics, and public policy, James formerly served as executive director of the Democratic Caucus in the U.S. House of Representatives. He was named five times to Roll Call's "Fabulous Fifty" list of the 50 most influential advisers and strategists on Capitol Hill. He sits on several major boards, including The Ad Council, The Washington Ballet, and the Advisory Board of the Annapolis Film Festival, and serves as Vice Chair of the Harvard Law School Annual Fund. A New York City native, and previously a partner at two large international law firms, James earned his Juris Doctor in 1992 from Harvard Law School.
Charles Eadie, Cowell College, 1974
Charlie Eadie is Principal Associate at Hamilton Swift & Associates, a firm specializing in land use and environmental planning. He has 30 years of public agency and consulting experience in planning and redevelopment, including work as Director of Campus and Community Planning at UCSC from 1999 to 2004. He also served as the project manager for the Santa Cruz Downtown Recovery Plan following the Loma Prieta Earthquake, played a key role in housing and economic planning in Watsonville. He has assisted in the earthquake recovery planning for Christchurch, New Zealand, and Kobe, Japan, as well as in tsunami recovery efforts in Japan. Charlie has a long record of civic involvement, including serving as President of the Santa Cruz Chamber of Commerce, President of the Cultural Council of Santa Cruz County, Chair of Leadership Santa Cruz, Chair of the Economic Development Council and Vice President of the Pajaro Valley Performing Arts Association. He has been an Alumni Council member for six years and was appointed President on 7/1/13; he also served on the Scholarship Benefit Dinner Committee.
Reyna Grande, Kresge College, 1999
Reyna Grande is the author of the novels Across a Hundred Mountains (2006) and Dancing with Butterflies (2009), for which she received an American Book Award (2007) and an International Latino Book Award (2010). Her most recent book, The Distance Between Us (2012), is a memoir about her life before and after illegally immigrating from Mexico to the United States. Hailed by the Los Angeles Times as "the Angela's Ashes of the modern Mexican immigrant experience," it was a finalist for the prestigious National Book Critics Circle Award. Now, in addition to being a published author, Reyna is an active promoter of Latino literature and is a sought-after speaker at high schools, colleges, and universities across the nation. Currently, she serves as a UCLA Extension Writers' Program instructor.
David Graves, Crown College, 1974
David Graves is the co-founder and co-managing partner of Saintsbury, a winery located in the Carneros region in Napa County. Established in 1981, Saintsbury is famous for its distinctive Pinot Noirs and Chardonnays. David is a professional member of the American Society for Viticulture and Enology. He has also served on the board of the Land Trust of Napa County and is a current board member of the Friends of the Napa River and the Oxbow School. As member of the Napa County Planning Commission nearly 8 years, David served two terms as commission chair. He formerly served on the UCSC Foundation Board and the Alumni Council and has been very generous with wine donations over the years.
James Gunderson, College Eight, 1977
Jim Gunderson is the founder and CEO of Governance and Transactions, LLC, a governance and compliance advisor to US, European, Middle East, and Australian based multinational businesses with operations throughout the world. He is chair of the PBSci Dean's Council and chair emeritus of the National Association of Corporate Directors' New York Chapter. He has a wide variety of interests in other fields, including theater, education and the environment. Jim and his wife, architect Valerie Boom, have two children, Maxine and Henry. Jim established a collection of comic books at UCSC Library Special Collections with his fellow alumnus Peter Coha, and the Gunderson Family Coastal Ecosystems Research Fund at UCSC with his wife Valerie. They have hosted university events in New York and are helping to build our network there.
Paul Hall, Merrill College, 1972
Paul Hall is a lawyer and a partner of DLA Piper LLP (US) in San Francisco, where he specializes in complex commercial litigation, with an emphasis on class actions involving financial institutions, e-commerce, unfair competition and labor cases. Paul graduated from UCSC in 1972 with highest honors in Politics and college honors from Merrill College, and he received his J.D. from the UC Berkeley Boalt Hall School of Law in 1975. Paul formerly served as a Regent of the University of California and as president of both the UCSC and Boalt Hall Alumni Associations. He is currently President of the UC Santa Cruz Foundation Board of Trustees, and also a member of the Social Sciences Dean's Council.
Teri Jackson, Stevenson College, 1977
Teri Jackson spent many years as a highly respected trial attorney, and in 2002 she was the first African American woman appointed to the Superior Court bench in San Francisco. She has served as chair of the State Bar of California Committee of Bar Examiner, president of the Black Women Lawyers Association and a board member of the Peninsula Community Foundation. From 2010-2014, Teri served on the Judicial Council and, in 2014, was voted to be the Superior Court of CA, County of San Francisco Assistant Presiding Judge, making her the first African-American woman in this position. Throughout her career, Teri has been dedicated to encouraging increased participation by women and people of color in the legal profession. She has also been active in education, serving as a mentor and encouraging young people to pursue higher education. Currently, she is an Adjunct Law Professor at UC Hastings School of Law and USF Law School.
John Laird, Stevenson College, 1972
John Laird was appointed California Secretary for Natural Resources by Governor Jerry Brown in January 2011. He has spent 40 years in public service, including 23 years as an elected official. John served from 2002 to 2008 in the California State Assembly, representing the 27th District (Santa Cruz and Monterey counties). A Democrat, he was appointed chair of the Assembly Budget Committee early in his tenure and had 82 bills signed into law, including the landmark Laird-Leslie Sierra Nevada Conservancy Act. He has also been a strong supporter of state funding for higher education, and in 2008 was named Legislator of the Year by the Alumni Associations of University of California. John previously served as mayor and city council member of Santa Cruz and on the Cabrillo College Board of Trustees. He was one of the first openly gay mayors in the U.S. and also one of the first to serve in the California legislature. A recipient of the 2003-04 Alumni Achievement Award, John has been recognized as one of UCSC's "45+5 Prominent and Influential Alumni."
Gail Michaelis-Ow, Cowell College, 1974
Gail Michaelis-Ow helped open the first Planned Parenthood Clinic in Santa Cruz in 1976; she was the center's first nurse practitioner—a title she still holds at the Westside Planned Parenthood today. Gail has also been active in both residential and commercial real estate and continues to hold her broker's license. A longtime community volunteer, Gail has served on the boards of Temple Beth El and Battered Women's Assistance, as well as the UCSC Foundation Board of Trustees and Shakespeare Santa Cruz. Gail and her husband, local businessman George Ow, Jr., were honored with UCSC's 2012 Fiat Lux Award for their involvement in the community and their generous giving to scholarships and the arts.
Shree Murthy, Graduate Division, 1996
Shree Murthy received her B.S. in Computer Science from Bangalore University in 1990, she graduated with an M.S. in Computer Science from the Indian Institute of Technology, Madras in 1993 and earned her Ph.D. in Computer Engineering in 1996. Shree is a Senior Principal Engineer at Dell/Force10 Networks. Prior to joining Dell in 2013, she was a Principal Engineer at FutureWei Technologies for 2 years and was a senior Technical Lead at Cisco Systems for 10 years. She has several publications and holds 17 patents in Networking field. Shree formerly served on the Baskin School of Engineering Alumni Advisory Committee.
Ezequiel Olvera Jr., Oakes College, 2005
Ezequiel founded and runs the Gumball Foundation, a social entrepreneurial venture that teaches the values of creativity and entrepreneurship while helping students earn money for college. Using a hands-on approach, Olvera partners the students with local small businesses and corporate offices to manage their micro-venture. Olvera founded the organization in 2009 and it has already garnered prestigious awards including the California Community Foundation's 2013 Unsung Heroes of Los Angeles Award, the Los Angeles Business Journal's 2012 Social Enterprise of the Year and was nominated for an L.A. Emmy Award in 2013. The Gumball Foundation won the Social Innovation Fast Pitch competition presented by Los Angeles Social Venture Partners and Annenberg Foundation in 2011, and was the national semi-finalist for the 2010 Yoshiyama Young Entrepreneur Award. He is also a lifetime member of the UCSC alumni association and part of UC Santa Cruz 50th Anniversary Leadership Committee, UC Santa Cruz Social Science Board.
Julie Packard, Crown College, 1974
Julie Packard is founding executive director of the Monterey Bay Aquarium, which celebrates its 30th anniversary in 2014. With a mission to inspire conservation of the oceans, the Aquarium has hosted nearly 56 million visitors since opening and is acknowledge as a leader among aquariums worldwide. Along with her role leading the Aquarium, Julie chairs the board of the independent Monterey Bay Aquarium Research Institute, a research institute dedicated to deep ocean science and technology. She also serves on the board of the David and Lucile Packard Foundation and is a former trustee of several conservation organizations including the World Wildlife Fund and The California Nature Conservancy. Julie serves as a Fellow of the American Academy of Arts and Sciences, was named a California Coastal Hero by the California Coastal Commission and has received the Audubon Medal for Conservation. She also served as a member of the Pew Oceans Commission which published a blueprint for improving governance of America's ocean waters in 2004; and currently serves on the California Parks Forward Commission, an independent commission charged with developing a sustainable path for California's state parks.
Jock Reynolds, Stevenson College, 1969
Jock Reynolds is both a visual artist and the Henry J. Heinz II Director of the Yale Art Gallery, America's oldest university teaching museum. Jock assumed his current position at Yale in 1998, where he has since overseen a major expansion of the art gallery's facilities, staff, collections, and educational programs, while also continuing to produce numerous exhibitions and publications. In 2010, Jock and fellow Arts Advisory Board member Peder Jones established the UCSC Pioneer Faculty Endowed Fund–A Legacy for the Future of the Arts. Jock was also the recipient of the 2013 Alumni Achievement Award.
M. Sanjayan, Graduate Division, 1997
M. Sanjayan is the lead scientist for The Nature Conservancy, where he specializes in human well-being, Africa, wildlife ecology and media outreach and public speaking on conservation issues. Sanjayan's work has received extensive print media coverage — from Vanity Fair to National Geographic Adventure, Outside to The New York Times. He frequently speaks at internationally recognized venues and has co-hosted documentaries for the Discovery Channel and the BBC. Sanjayan is a Catto Fellow with the Aspen Institute, has a research faculty appointment with the Wildlife Program at the University of Montana, and serves as Science and Environmental Contributor to CBS News.
Nikki Silva, Porter College, 1973
The Kitchen Sisters (Nikki Silva and Davia Nelson) are producers of the duPont-Columbia Award-winning NPR series Hidden Kitchens, and the two Peabody Award-winning NPR series, Lost & Found Sound, and The Sonic Memorial Project. Their most recently projects include The Hidden World of Girls, a series on NPR exploring the lives of girls and the women they become, and The Making Of… What People Make in the Bay Area and Why with KQED. They are currently producing a new season of Hidden Kitchens stories from around the world for NPR's Morning Edition. Nikki has also worked as History Curator at the Museum of Art and History in Santa Cruz and as a freelance curator and exhibit consultant specializing in regional history.
Sabrina Solin Weill, Stevenson College, 1992
Sabrina (Solin) Weill is the co-founder and creative director of Weill Media (WeillMedia.com), a content marketing studio that produces videos, websites, and articles for major brands. Sabrina spent 15 years in editorial positions, including editor-in-chief of Seventeen, editor-in-chief of Warner Bros' MomLogic.com, executive editor of CosmoGirl!, and senior editor of Redbook. Sabrina is the author of three books: We're not Monsters (HarperCollins), The Seventeen Guide to Sex and Your Body (Simon & Schuster) and The Real Truth about Teens and Sex (Penguin), which was excerpted in TIME. She has appeared on the Today Show, The Early Show, USAToday and in The Washington Post, among others. Sabrina has a BA in Creative Writing from UCSC and lives in Santa Monica with her husband and two children.
Danielle Soto, College Ten, 2008
Danielle Soto received a BA in Environmental Studies from UC Santa Cruz. As Chair of Pomona's Environmental Stewardship Sub-Committee, she worked on water issues for the city involving costs, conservation, and efficiencies that provided both environmental and financial benefits to the city. She also worked on obtaining over $1 million dollars from the Department of Energy's American Recovery and Reinvestment Act for energy efficient streetlights throughout the city. Danielle served on the Pomona City Council and is currently a member of the City of Pomona's Community Life Commission and employed by the Public Affairs Department of the South Coast Air Quality Management District. Danielle was the recipient of the Los Angeles County Democratic Central Committee 2010 Franklin and Eleanor Roosevelt Democrat of the Year Award for the California 61st Assembly District. In 2011, she was recognized as one of the 50 Most Influential and Prominent UC Santa Cruz alumni.
Alec Webster, College Eight, 2002
Alec Webster formerly served as a machinist and designer at the UC Santa Cruz Institute for Particle Physics. After retiring in 2001, he returned to UCSC as a student, earning a degree in Environmental Studies. He is a board member of his family's Helen & Will Webster Foundation, which gives $6M annually to education and community services. Alec has directed substantial support from the foundation towards Environmental Studies, CASFS, College 10 programs, Life Lab/Food What!?, and The South Campus Vision Fund. Alec and Claudia Webster have supported The Grateful Dead Archive, The Gabrielle Zimmerman Fund, and the Apprentice Housing Project. Alec is currently serving as Chairman of the Dean's Social Sciences Board of Councilors at UCSC.
Lisa Witter, Stevenson College, 1995
Lisa Witter is an experienced executive, social entrepreneur, communications strategist, writer, and commentator. Lisa is the co-author of The She Spot: Why Women are the Market for Changing the World and How to Reach Them and is partner and Chief Change Officer of Fenton Communications, the largest public interest communications firm in the country. She focuses on behavior change, innovation, women's issues, and global affairs for clients including Desmond Tutu's The Elders and The Ford Foundation. She was named by the World Economic Forum as a Young Global Leader in 2010. Lisa and her husband, technology consultant Christopher Brem, have two young sons.
Michael Woo, Cowell College, 1973
Michael Woo has served as Dean of Cal Poly Pomona's College of Environmental Design since 2009. A planning expert who has worked in the for-profit, nonprofit and government sectors, he was the first trained urban planner and the first Asian American elected to the Los Angeles City Council, where he served for eight years. A native of Los Angeles, Mike taught the undergraduate introduction to urban planning and development at USC for seven years and led a seminar at UCLA on urbanization in China prior to joining Cal Poly. He was honored with the 1993-94 Alumni Achievement Award; he served on the UCSC Foundation during 1995-98.
Ron Yerxa, Graduate Division, 1974
Independent film producer Ron Yerxa (Grad Div '74) formed Bona Fide Productions with Albert Berger in 1993. Their producing credits include King of the Hill, Election, Cold Mountain, Little Miss Sunshine, Little Children, Ruby Sparks, The Switch, and most recently Nebraska. Ron has a B.A. from Stanford University but gravitated toward UCSC for graduate school. After working as a journalist and teacher, he became a film executive and producer. Ron is a member of the UCSC Arts Dean's Leadership Board and the 50th Anniversary Leadership Committee.